Home / en / Event / L.O.L. Surprise! by VisitMalta
L.O.L. Surprise! by VisitMalta
First ever L.O.L. Surprise! LIVE show set to dazzle families The call has gone out… All B.B.s in Malta have been invited to strut their stuff and show off exactly who they are when the L.O.L. Surprise! LIVE VIP Party in collaboration with Visit Malta arrives in town.
5 April 2022 - 17 April 2022
Show Times Vary
MFCC - Malta Fairs & Conventions Centre, Attard, Malta
A show unlike any other, L.O.L. Surprise! family entertainment with this new immersive concert show that incorporates holograms as an added element alongside live characters with upbeat music, singing and dancing.
Combining the energy of a concert and club, the L.O.L. Surprise! LIVE VIP Party is designed to give fans the chance to dance and have a good time with all their favourite L.O.L. Surprise! friends.
The premise of the show is simple: Mallory is getting ready for the L.O.L. Surprise! LIVE VIP Party, which is the biggest event of the year. She wants to put together a fierce look, but is feeling self-conscious and doesn't know what to wear.
Luckily, Lady Diva, Swag, Royal Bee and Neonlicious are there to help. Together they go on a journey filled with show-stopping numbers that include lots of dancing, singing and fabulous fashion, as well as visits from life-size "holoGLAMs" of L.O.L. Surprise! Remix O.M.G. Fashion Dolls like Kitty K, Lonestar, Pop B.B. and Honeylicious.
In the end, Mallory realises she had the confidence inside her all along – plus what really matters is just to be yourself and have fun.
Featuring hot beats and the latest songs from the upcoming L.O.L. Surprise! movie, the L.O.L. Surprise! LIVE VIP Party also boasts elaborate choreography, eye-popping costumes and the ultimate Instagrammable sets.
"It's going to be a show like no other, with bubbles, projections, confetti and even holograms," said Samantha Wilson, marketing director for L.O.L. Surprise! UK, about this never-before-seen show. "We can't wait to see our fans interacting and dancing with their favourite dolls. We have no doubt it will be a moment they'll never forget!"
At the L.O.L. Surprise! LIVE VIP Party, audiences are sure to be thrilled from start of finish. From the opportunity to "Get Up and Dance" as well as sing along to L.O.L. Surprise!'s newest hits with their stylish BFFs and all the B.B.s, it promises to be the best show ever… like, ever ever!
Please Note the Following:
Please note that doors always open 1 hour before curtain up. Your printed ticket has all the details you need to know to ensure that you are in your seats without any hassles i.e. the time at which doors will open and the time when the show will be starting.

Flashing light effects might be used during this performance. Patrons that may suffer from epilepsy & other visual light stimulation effects are advised to contact the ticketing helpline prior to booking.

No ticket is required for children under the age of 2, and who will not be occupying a different seat than that of their parent/guardian.

Pushchairs are not permitted within the venue.

All Children under the age of 13 need to be accompanied by a guardian.

A change of date or seats for the purchased tickets cannot be granted.

Tickets are not refundable.
This event is being organized following the COVID-19 protocols currently in place by the Health Authorities. The maximum safety of the performers, and the audience remains a top priority throughout. The temperature will be checked upon, entrance & and an approved COVID-19 vaccine certificate needs to be presented together with an Identification Document. Individuals who are 12 years and over need to have a valid COVID-19 Vaccination Certificate. Children under 12 years of age can attend without a PCR Test if accompanied by a vaccinated parent/guardian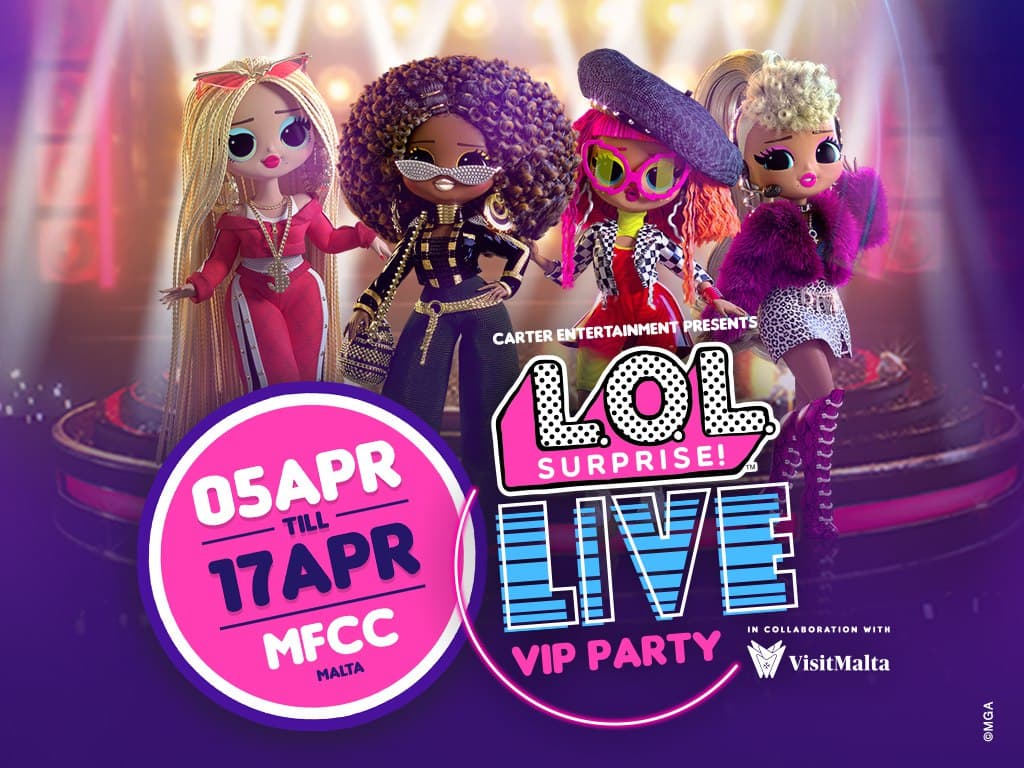 Looking for beaches and crystal-clear blue Mediterranean water? Malta is the answer.
Outstanding restaurants and spectacular local produce make Malta a foodie's Heaven.
Festivals, theatre, clubs, bars and more. No two nights are the same in Malta!
With over 120 captivating dive sites and great visibility, Malta is a diver's dream.